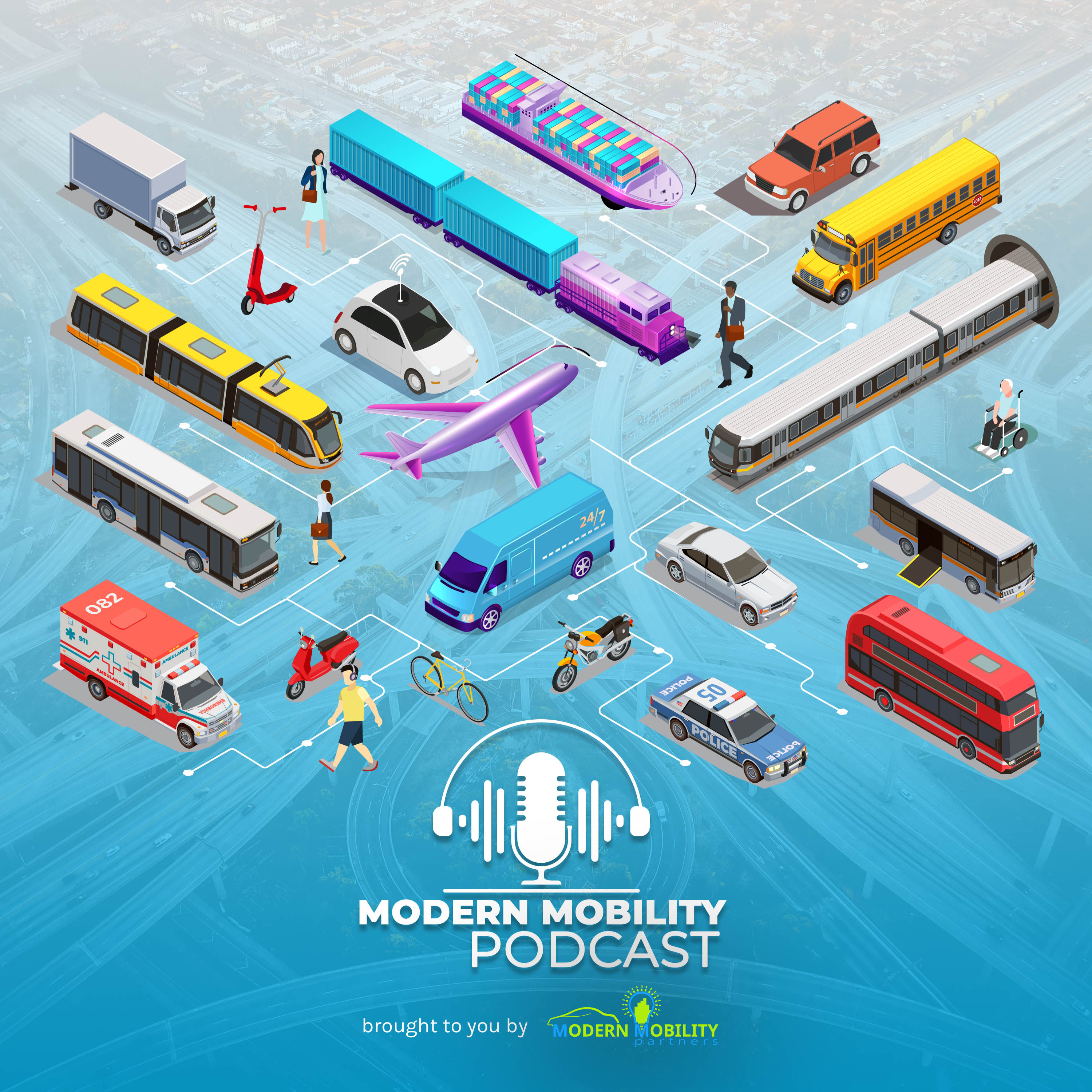 Episode Summary:  Listen to national experts and certified planners, Keli Kemp, and Kirsten Mote, both with Modern Mobility Partners, talk about what planners can do to plan for parking in a changing transportation ecosystem. Listeners will learn the following in Episode 15:
Effects of advent of connected and autonomous vehicles (CAVs) on parking needs.
Components that affect parking demand.
Potential implications of digitization and increase use of CAVs on general public.
Role of transportation planners around parking in the changing ecosystem.
Parking count standards and calculating parking demand.
Shared parking strategies and effect of transit availability.
Zoning and land use regulations for parking requirements.
Design and configuration of parking lots and decks.
Use of technology and sustainability in parking uses.
Links:
The future of parking – Can providers find a space in the new mobility ecosystem? – Deloitte Consulting LLP, 2018
https://www2.deloitte.com/us/en/insights/focus/future-of-mobility/future-of-parking-new-mobility-ecosystem.html
Searching for Parking Costs Americans $73 Billion a Year - INRIX, 2017
https://inrix.com/press-releases/parking-pain-us/
A Space for Parking in the Future of Mobility – Firas Suqi, 2020
https://www.citytech.org/a-space-for-parking-in-the-future-of-mobility
Parking's Role in the New Transportation Ecosystem – Brett Wood, IPMI, 2018
https://www.parking-mobility.org/2019/04/05/parkings-role-in-the-new-transportation-ecosystem/
How self-driving cars could shrink parking lots – University of Toronto, Faculty of Applied Science & Engineering, 2018
https://www.sciencedaily.com/releases/2018/03/180328182441.htm#:~:text=shrink%20parking%20lots-,Researchers%20find%20that%20optimizing%20for%20autonomous%20vehicles%20could%20increase%20the,lot%20by%2062%20per%20cent&text=Summary%3A,urban%20space%20dedicated%20to%20parking.
How Self-Driving Cars Might Transform City Parking – Charles Choi, IEEE Spectrum, 2019
https://spectrum.ieee.org/autonomous-parking
Driverless cars could spell the end for downtown parking – and cities need to plan ahead – Corey Harper, City Monitor, 2019
https://citymonitor.ai/transport/driverless-cars-could-spell-end-downtown-parking-and-cities-need-plan-ahead-4767
Autonomous Vehicles: Where We Are, Where We're Going, And What It Means For Parking - IMPARK
https://www.impark.com/parking-insight/autonomous-vehicles-parking/
Further Reading:

From Chaos to Order: A Brief Cultural History of the Parking Lot – Eran Ben-Joseph, The MIT Press Reader, 2020
https://thereader.mitpress.mit.edu/brief-cultural-history-of-the-parking-lot/
The Trouble With Minimum Parking Requirements – Donald Shoup, Transportation Research Part A Vol. 33 (1999)
https://www.vtpi.org/shoup.pdf
What are Parking Requirements? - Planetizen
https://www.planetizen.com/definition/parking-requirements
How Parking Destroys Cities, Michael Manville, The Atlantic, 2021
https://www.theatlantic.com/ideas/archive/2021/05/parking-drives-housing-prices/618910/
People Over Parking – Jeffrey Spivak, Planetizen, 2018
https://www.planning.org/planning/2018/oct/peopleoverparking/
Future-Proofing Parking – Jake Blumgart, Planetizen, 2018
https://www.planning.org/planning/2018/mar/futureproofparking/
Co-Hosts:
Keli Kemp, AICP, PTP has almost 25 years of experience in transportation planning and consulting and co-founded Modern Mobility Partners in in early 2018 with Jennifer Zhan. Keli holds a M.S. degree in Urban Planning from Texas A&M University.
Kirsten Mote, AICP has over 13 years of experience in transportation planning and most recently got certified by MIT's Media Lab in their Beyond Smart Cities program. Kirsten holds a M.S. in City Planning from Georgia Tech.
Guest Speaker:
Chirag Date, AICP Candidate, LEED GA, has over 6 years of experience in working on master plans, corridor revitalization plans, mixed-use and multi-acre developments, land use planning, and urban design projects. Chirag is a licensed architect in India and holds a M.S in City Planning from Georgia Tech.
Modern Mobility Partners is an Atlanta-based women and minority-owned transportation planning and traffic engineering consulting firm.  Service areas include transportation planning, travel demand modeling, traffic and revenue forecasting, traffic engineering, project prioritization and performance measures, funding strategies and grant applications, all looking through a lens of new and emerging technologies.
If you are interested in learning more about Modern Mobility Partners, please visit www.modernmobilitypartners.com.  If you are interested in becoming a guest on our podcast, please email podcast@modernmobilitypartners.com.